The third edition of the Immunotherapies & Innovations for Infectious Diseases Congress (I4ID2019), that will be held in Lyon, France on December 4-5, 2019.
The purpose of this two-day congress is to foster interactions between pharmaceutical industries, research labs, service providers, technology developers, and clinicians, thus contribute to the development of innovative strategies against infectious diseases in a multidisciplinary approach.
At this year's Immunotherapies & Innovations for Infectious Diseases Congress (I4ID) in Lyon, COMBACTE's LAB-Net will be presented during the "Innovative therapeutic approaches to fight infectious diseases" session.
Tomislav Kostyanev (University of Antwerp) – one of the clinical microbiologists working in COMBACTE's LAB-Net – will be giving the presentation on the second day of I4ID. The presentation will be on the important work performed in LAB-Net in its 6 years since it started. View the event program for more information.
LAB-Net is one of COMBACTE's four fundamental pillars. It is a network of microbiology laboratories delivering high-quality and standardized information on microbial strains and antibiotic resistance. Data from this network will guide the selection of clinical trial sites for particular treatments and will provide microbiological information that will be needed during the execution of such trials.
"It is important that COMBACTE and LAB-Net are represented at I4ID. It is a great opportunity to disseminate results from the consortium and shout out about the success of our clinical trial network" says Tomislav.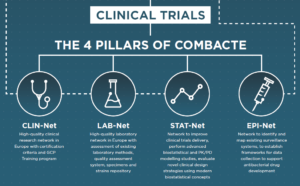 Dr. Bruno François, management board member of COMBACTE-NET and academic lead in the SAATELLITE and EVADE studies will be also be giving a keynote lecture on day one of I4ID.
In 2017 COMBACTE was present in the exhibition hall at the first edition of I4ID. Read about it here.