COMBACTE-NET's SAATELLITE-2: A Continued Collaboration
Last July, Aridis Pharmaceuticals announced its exclusive licensing agreement with AstraZeneca, to in-license the late stage monoclonal antibody (mAb) candidate, suvratoxumab. Suvratoxumab extends Aridis' pneumonia franchise by complementing the existing AR-301 Phase 3 pneumonia treatment program. With Aridis as a new official EFPIA partner within COMBACTE-NET, Aridis Pharmaceuticals and COMBACTE-NET continue their research on this monoclonal antibody in the SAATELLITE-2 clinical trial.
We asked Hasan Jafri, EFPIA Coordinator of SAATELLITE-2, about his thoughts on this continued collaboration. Dr. Jafri has been previously involved in COMBACTE-NET's SAATELLITE trial, the Phase 2 predecessor of SAATELLITE-2.
"Having been a part of COMBACTE in its formative years, including having the privilege of serving as the EFPIA Coordinator for COMBACTE-NET and COMBACTE-MAGNET, I am indeed excited to continue the collaboration to support development of novel molecules such as suvratoxumab to help fight antimicrobial resistance (AMR)."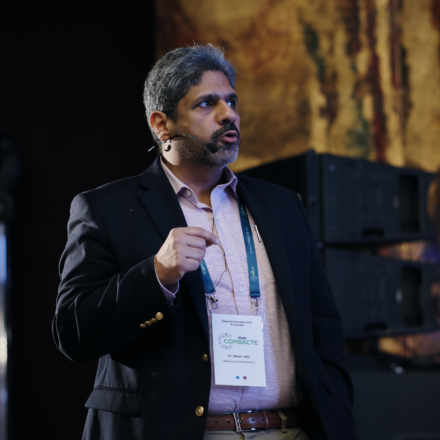 "I am delighted to continue the collaboration with COMBACTE to design and conduct the Phase 3 study to evaluate suvratoxumab (AR-320) after the successful collaboration of the Phase 2 SAATELLITE study. It is an excellent opportunity to build on the lessons learned and efficiencies gained up till now"
SAATELLITE: "A Study of Many Firsts"
SAATELLITE was the first study of suvratoxumab conducted in an ICU population. It was the first interventional trial designed and initiated utilizing the public-private partnership within COMBACTE-NET.
The trial design included a novel placebo-controlled, superiority design, utilizing a molecular diagnostic assay to help enrich a high-risk target population, using an endpoint of nosocomial S. aureus pneumonia developed by the public-private steering committee consisting of HAP/VAP and clinical trial experts. In addition, the SAATELLITE study successfully provided a blueprint for a "pre-emptive" approach where high-risk patients at risk of developing VAP can be successfully identified and treated in a timely manner to help prevent VAP.
"S. aureus pneumonia, especially VAP, is associated with substantial morbidity and even mortality, despite the availability and use of appropriate antibiotics"
After the successful design and execution of the Phase 2 SAATELLITE study, the Phase 3 study will confirm the efficacy and safety findings as part of Aridis' commitment to bringing novel immunotherapeutic molecules targeting AMR to vulnerable patients with unmet medical need.
Continued Collaboration
Aridis brings the knowledge of the logistics and site capabilities globally for a VAP trial focused on S. aureus.
"Aridis is fully focused on developing novel, first in class molecules targeting multi-drug resistant pathogens, and has multiple programs in various Phases of clinical development including a currently ongoing global Phase 3 S. aureus VAP treatment trial across 20 countries and 150 sites".
Several of the Aridis team members have played substantial roles in COMBACTE before. Hasan Jafri was COMBACTE-NET and COMBACTE-MAGNET Coordinator and Terramika Bellamy was EFPIA Lead of the Project Management Offices. The most recent addition is Drieke Vandamme, who worked as a project manager at the University Hospital Limoges, assisting in earlier COMBACTE studies.
"Aridis is looking forward to an active and highly productive collaboration with the COMBACTE team, to design and conduct the Phase 3 study SAATELLITE-2"

Hasan Jafri
Suvratoxumab is a novel, fully human mAb, being developed to pre-emptively treat high-risk patients to prevent S. aureus pneumonia in the ICU setting. In the Phase 2 SAATELLITE study Suvratoxumab has been shown to exhibit a favorable safety profile, and was associated with a reduction in S. aureus ICU pneumonia and shorter duration of ICU and hospital stays. The upcoming Phase 3 study is designed to confirm the efficacy of suvratoxumab in ICU patients in preventing S. aureus pneumonia.
SAATELLITE-2 is a phase 3, randomized, double-blind, placebo-controlled, single-dosed trial, focusing on human monoclonal antibody against Staphylococcus aureus alpha toxin in mechanically ventilated adult and adolescent subjects. The clinical trial involves patients who are in an intensive-care unit (ICU) at high risk of developing nosocomial pneumonia caused by S. aureus.
Approximately €25 million from EU Commission's Innovative Medicines Initiative (IMI) have been allocated through the COMBACTE-NET consortium, which will be supporting the Phase 3 trial for suvratoxumab in SAATELLITE-2.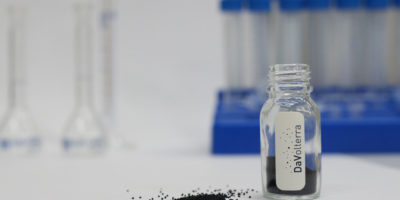 17/11/2021
MICROCARE Prepares Sites for Patient Enrolment
25/10/2021
LAB-Net is selecting sites for the new Phase 3 SAATELLITE-2 study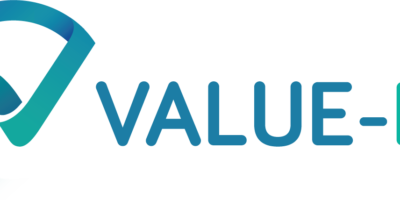 19/10/2021
LAB-Net prepared sites for VALUE-Dx trials