Personal Story
From Law to European Project Management
Almudena de la Serna Bazán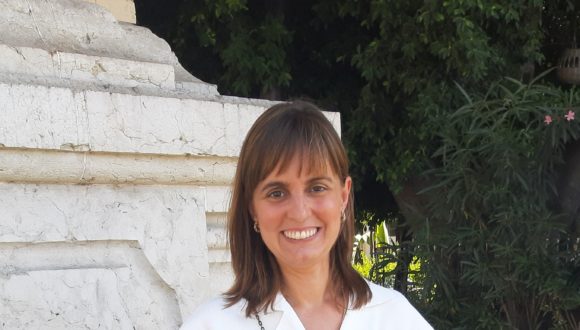 Almudena de la Serna Bazán has been a Project Manager in COMBACTE since 2015. She has been coordinating an array of studies; mainly COMBACTE-CARE's EURECA, but also COMBACTE-NET's currently active studies ARTHR-IS, EXPECT 1, and earlier ASPIRE-ICU, ASPIRE-SSI, and ANTICIPATE. Almudena is part of Dr. Jesús Rodríguez Baño's team at the Infectious diseases Unit at Hospital Universitario Virgen Macarena (HUVM) in Seville.
Almudena's role mainly involves the administrative and economic management of projects and studies, as well as solving legal issues that may arise, such as the signing of contracts with the different hospitals.
It hasn't always been Project Management that Almudena has been doing. In fact, Almudena studied Law, but has found that R&D is more her cup of tea. And so she began her journey in European Project Management by first completing a Master's Degree in R&D Management, and carrying on gaining experience in the field by working for different organizations.
"After a few years I finally got the opportunity to manage my first European project (SIMBASE) in the healthcare field. It was this job that opened doors to new job opportunities in project management" says Almudena.
She also worked in the R&D in the aeronautical field, but quickly learned that her heart was in healthcare.
"I got the opportunity to work in the health sector again, this time for the Andalusian Public Foundation that manages health research in hospitals in Seville: FISEVI, within the Andalusian Health Service (SAS). Here I have been working and developing myself as a professional for over six years.  My initial task was the management of the COMBACTE projects and the observational studies and clinical trials of Dr. Jesús Rodríguez Baño at HUVM. Over time, I have been taking on other projects and clinical trials related to infectious diseases".
"The most important thing people should know is how valuable teamwork is. Work can only get ahead thanks to the efforts of a group of people: principal investigator, study coordinator, study monitors, project managers, and so on. With a good team behind you, it's easier to navigate any forthcoming challenges"

— Almudena de la Serna Bazán
"My favorite part of the job is making sure that all the pre-established milestones are being achieved over time. What motivates me is knowing that all the research, efforts and hard work that goes into this will contribute to finding solutions for tackling (emerging) infectious diseases."
When she is not managing projects on her daily job, Almudena can be found enjoying a good book. "A few years ago I decided to join a reading club. I'm the youngest in the club, but I enjoy it and I learn a lot things from the other book club members".
"Having a good coordination of the project, as well as periodic follow-up meetings where you can update the information and resolve any doubts is very important. Fluid communication in a European project is key."

— Almudena de la Serna Bazán