University of Verona, Italy
A Keen Interest in Global Health
Fabiana Arieti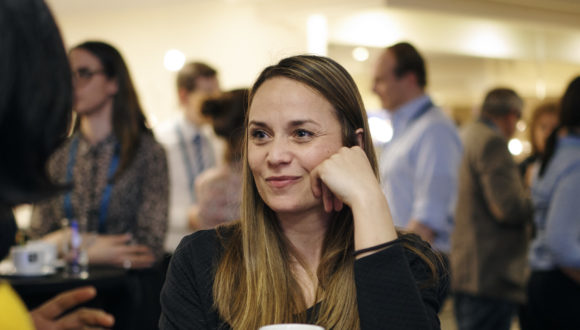 I appreciate the fact that through my work, in some small way, I am able to respond to some of the most challenging health issues that society is facing today. In addition, to do so as part of a multidisciplinary team and in a dynamic environment where I have the opportunity to constantly learn is very rewarding.
Global health: No soul left behind
Fabiana Arieti is a molecular biologist with a long-standing interest in Global Health. Currently part of the COMBACTE-MAGNET EPI-Net team led by Prof. Evelina Tacconelli at the University of Verona, Italy, Fabiana's work focuses on epidemiology of antimicrobial resistance and healthcare-associated infections based on a One Health approach.
"In 2014, after finishing a PhD in molecular and structural biology focused on RNA-protein interactions and RNA editing at the University of Geneva (Switzerland), I developed a keen interest in public health, infectious diseases and in promoting science and health in resource-limited settings.
I collaborated with the NGO "TREND in Africa" and organized a Molecular Biology practical workshop for students and staff of the University of Mekelle (Ethiopia). This experience made me realize that I truly wanted to use my knowledge not only for experimental research but also to promote research and education on the African continent.
After a further short period of exciting fundamental scientific research in the team of Mary O'Connell (CEITEC, Brno, Czech Republic), in 2016 I attended the course "Tropical diseases and International Medicine" organized by the University of Brescia (Italy). This deeply inspired me and gave the opportunity to work for the NGO "Medicus Mundi Italia" in Mozambique as project coordinator, focusing on primary health care, HIV and malnutrition in rural communities.
While in Africa I became increasingly aware of the global health challenges that remain to be addressed and on the importance of working on projects that not only address the Sustainable Development Goals (SDGs) but also have direct impact on health of people, especially the most vulnerable, leaving no one behind. On my return from Africa, I joined Evelina Tacconelli's team at the University of Verona working on different aspects related to antimicrobial resistance."
Work in EPI-Net
"We conduct systematic reviews on different aspects related to antimicrobial resistance in Europe and beyond, including surveillance, outbreaks and new emerging antibiotic resistances. After collection and validation of the data, we develop a way to show them on a freely accessible online platform which aims to support clinical practice, driving decisions based on a One Health approach, and highlighting gaps in knowledge, implementation and policies that still need to be addressed.
What I appreciate most in working for EPI-Net is the final goal, which is to find solutions to current global health issues. Most of our work is based on multidisciplinary and multicultural team-work that requires good communications skills and problem solving. Sometime it can be challenging; however, I believe that challenges are an opportunity for new creative approaches."
"What I learned most in the past two years? That 'Knowledge alone cannot give rise to value. It is only when knowledge is guided by wisdom that value is created. The font of wisdom is found in the following elements: an overarching sense of purpose, a powerful sense of responsibility and, finally, the compassionate desire to contribute to the welfare of humankind'."

— Fabiana Arieti quoting Daisaku Ikeda