30 Years of In vitro Diagnostics
bioMérieux's Dr. Philippe Cleuziat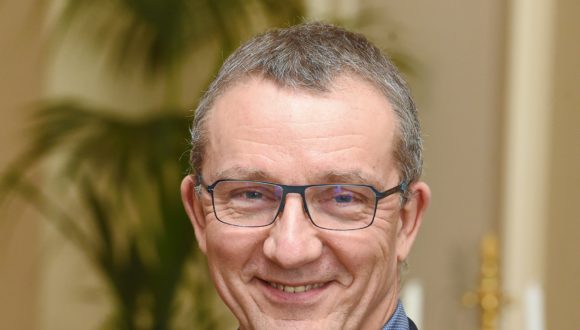 The result of a diagnostic test is usually the first piece of information, after the history and physical exam, which a physician needs before deciding on a treatment. Diagnostics also influence the rest of the care path of a patient.
Dr. Philippe Cleuziat is Innovation Program Senior Director at bioMérieux – one of the main EFPIA partners in COMBACTE-CDI since 2017. He is also a management board member, and part of the project management office in COMBACTE-CDI.
bioMérieux is a world leader in in vitro diagnostics, providing diagnostic solutions to address major public health challenges.
"Globally speaking, the diagnostic business represents less than 5% of total health expenditures, but diagnostic test results have been shown to influence approximately 60% – 70% of clinical decision-making". [1]
Philippe has a background in biochemistry and microbiology, and 30 years of experience in the field of in vitro diagnostics (IVD). His keen interest in this area has developed due to the evolution of IVD into a much larger and more complex field. "I've always been interested in the life sciences, and wanted to be involved in the innovation and research part of it. I chose engineering studies encompassing a lot of different disciplines – from physics to biology and chemistry."
A better future
"The world is evolving quickly, as demonstrated by climate change and migration, for instance. And so are infectious disease pathogens. This is why we need to stay alert and deal with the fact that all of these factors are interrelated, in order to provide innovative solutions to treat and diagnose disease and to continuously improve the quality of life.  bioMérieux has a long standing commitment in raising awareness of these challenges and innovating in order to provide diagnostic solutions that will contribute to a better future for us and our children."
Cross-sectorial tactics
"The more you realize how political, medical and societal factors relate to each other, the more apparent it becomes that health challenges will have to be tackled from different complementary approaches. Healthcare policy- and decision-makers have increasingly realized that we need to have cross-sectorial tactics.
bioMérieux has a long history of partnerships. We became aware of COMBACTE as a unique public-private consortium in facing the threat of antimicrobial resistance (AMR) and therefore we decided to join forces to meet this challenge. Private-public partnerships are important for us to stay in tune with the best science and experts in the field of clinical research. We believe that this is an ideal platform to create important advances in medicine while working together with academic partners and other industries. One of our strategic priorities is to fight AMR globally by creating, providing and deploying diagnostic solutions to optimize antibiotic use, thereby preventing and controlling this public health threat.
We are facing many cases of antibiotic-resistant infections every day, along with new resistant pathogens appearing on a regular basis. We work closely with all healthcare professionals in order to develop and propose the best diagnostic solutions, in order to respond to important clinical needs, address public health concerns and to improve patient outcomes."
"Through COMBACTE-CDI we work closely with key opinion leaders"
"Within the COMBACTE community, there are different people who are all connected and information circulates effectively. It's very motivating for us to contribute to this effort and to get more involved with academic groups, startup companies, social scientists and other top-notch professionals in a goal-directed collaboration.
My role in the project management office is to work closely with the academic and EFPIA partners in COMBACTE-CDI, and to share the necessary project information within our company to all the experts in the various involved disciplines.
As a management board member of COMBACTE-CDI, my focus is the project's strategy. This means constantly assessing how the project is advancing globally: 'what are we good at?', 'what are the risks and how to mitigate them?', 'what lessons have we learned?', 'what additional resources are needed?'. Optimization of resources, including public funding and people, is key in order to maximize our achievements."
[1] – The Lewin Group, Inc. The Value of Diagnostics Innovation, Adoption and Diffusion into Healthcare (July 2005).This figure concerns all diagnostic tools: in vitro diagnostic tests and medical imaging exams.