Applying Statistics in Medicine
Maja von Cube - Institute of Medical Biometry and Statistics, Freiburg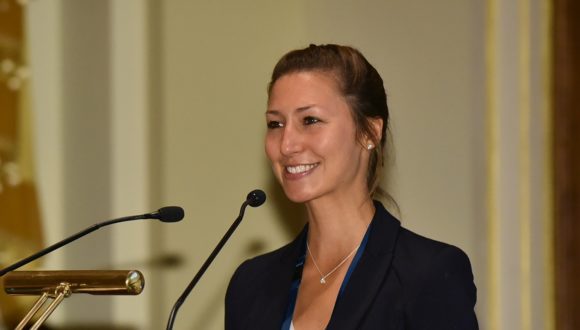 To me, medicine is one of the most important fields for applying statistics. I like to contribute to solving clinical and medical questions with my expertise as a mathematician.
Maja von Cube studied Mathematics at the University of Freiburg in Germany (Bachelor of Science 2008-2012, Master of Science 2012-2015). Since 2015, she is Scientific Assistant at the Institute of Medical Biometry and Statistics Freiburg, and has recently finished her PhD. In the past four years, Maja mainly worked for COMBACTE-MAGNET's WP3B, under the supervision of Prof. Martin Wolkewitz – academic lead of COMBACTE-MAGNET's WP3B.
"I finished my master thesis under Prof. Martin Schumacher and Prof. Wolkewitz's supervision, who gave me the opportunity to contribute to WP3B. Since I really enjoyed doing methodological research in hospital epidemiology, I decided to take on this offer.
I developed novel methodology to study the causal relation of hospital acquired infections (HAIs) and hospital mortality while accounting for the complex time dynamics of the data situation. A main focus was the correct quantification of attributable mortality due to HAIs. With the novel method, we were able to estimate the annual percentage of preventable hospital deaths if HAIs could be eliminated".
I appreciate working on relevant scientific questions to gain novel insights from data by applying the correct methods. I also love to be confronted with new challenges and solve problems in collaboration with other statisticians and clinicians.
Sharing knowledge through publications
Since she has been working in COMBACTE, Maja has co-authored a total of 11 COMBACTE-MAGNET scientific papers.
"I enjoyed developing novel methodologies to tackle the challenges of modeling the consequences of infections. We also had a good collaboration with clinicians, and applied these methods to high quality data. I think we gained important insights on the population attributable burden of HAIs. Through our publications we were able to share our knowledge with other researchers and inform the public on some aspects on this important topic. I hope we achieved more awareness for the correct statistical modeling of data in hospital epidemiology" says Maja.
At the moment, Maja is working on a literature research on attributable mortality.
For further reading of the published scientific papers that Maja contributed to, visit the COMBACTE Library page.
Maja von Cube will be giving a tutorial on advanced survival methods at the GMDS Annual Meeting (German Association for Medical Informatics, Biometry and Epidemiology) in Dortmund, Germany, on 8-11 September 2019.