Eirini Daikou
The Inspiring Field of Clinical Trials
Eirini Daikou - Laiko General Hospital of Athens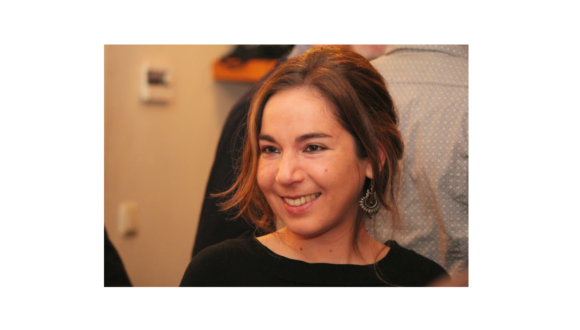 The field of clinical trials gave me a new perspective and I was willing to commit. I have taken a fascinating leap that has led me to a real career change and it is very exciting.
Eirini Daikou is a Clinical Research Coordinator at the 1st Department of Medicine of Laiko General Hospital of Athens, Greece. She got her first degree in Plant Science at the Agricultural University of Athens, Greece, and specialized in Plant Pathology and Entomology at Wageningen University in the Netherlands, obtaining a Master's Degree. But Eirini's path to working in the field of clinical trials was an unplanned fortunate discovery.
"While on the lookout for job opportunities in the research field, it occurred to me that entomology and medicine may be combined. I contacted scientists in medicine that work in the research field and started doing voluntary lab work" says Eirini.
"In the meantime I was introduced to the inspiring field of clinical trials. Currently, I am completing my second Master's Degree on clinical trials at the National and Kapodistrian University of Athens/ Medical School, while working as a Clinical Research Coordinator at Laiko General Hospital of Athens. For almost three years now I have gained experience in various clinical studies (phases II to IV), which mainly covers the therapeutic area of bacterial infections and mycoses.
Seeking to gain more experience in laboratory work I was lucky enough to get acquainted with someone working  with clinical trials. Initially I was assisting her while being trained and later on I decided to change career. After two years of experience in this new field, I decided to invest and broaden my knowledge in clinical trials."
"It is a great feeling knowing you are part of a team that works to improve the condition of sick and suffering people. Collaborating with clinicians made me realize the major challenges of modern medicine, especially in the field of infectious diseases and the emerging problem of drug resistance."
Working in COMBACTE
"My trainer was the Study Coordinator for the COMBACTE-CARE project. Working with her made me realize the importance of the project and I found it a good challenge to be part of an international team and contribute to this.  Attending the  COMBACTE General Assembly in 2018 motivated me even more. I met the international team and became more familiar with the projects. Starting up with EURECA, I realized that getting together is just a beginning but working together is a success."
Eirini is working in several of COMBACTE's studies: EURECA, REVISIT, ANTICIPATE and EVADE.
Her work in COMBACTE involves assisting the national coordinator (Dr. George Daikos) for all participating Greek sites (start-up, monitor and close-out visits). Further, Eirini's work focuses on preparation and submission of study files to regulatory authorities IRB/IEC, maintaining detailed records of the study, ensuring compliance with protocol, arranging shipments of samples, keeping an overview of proposed study protocols to assess factors such as sample collection procedures, data management issues, preparing trial-related paperwork such as protocol worksheets, adverse event reports, IRB documents, procedural manuals and progress reports, keeping in touch with sponsors to schedule and coordinate site visits.
"The idea of COMBACTE is very inspiring, it brings together many investigators working in different areas of research from academy and industry, creating a huge and efficient network. I believe that this is a really promising way to advance our fight against disease."